Thursday, 23 April 2020 6:00:00 am Australia/Melbourne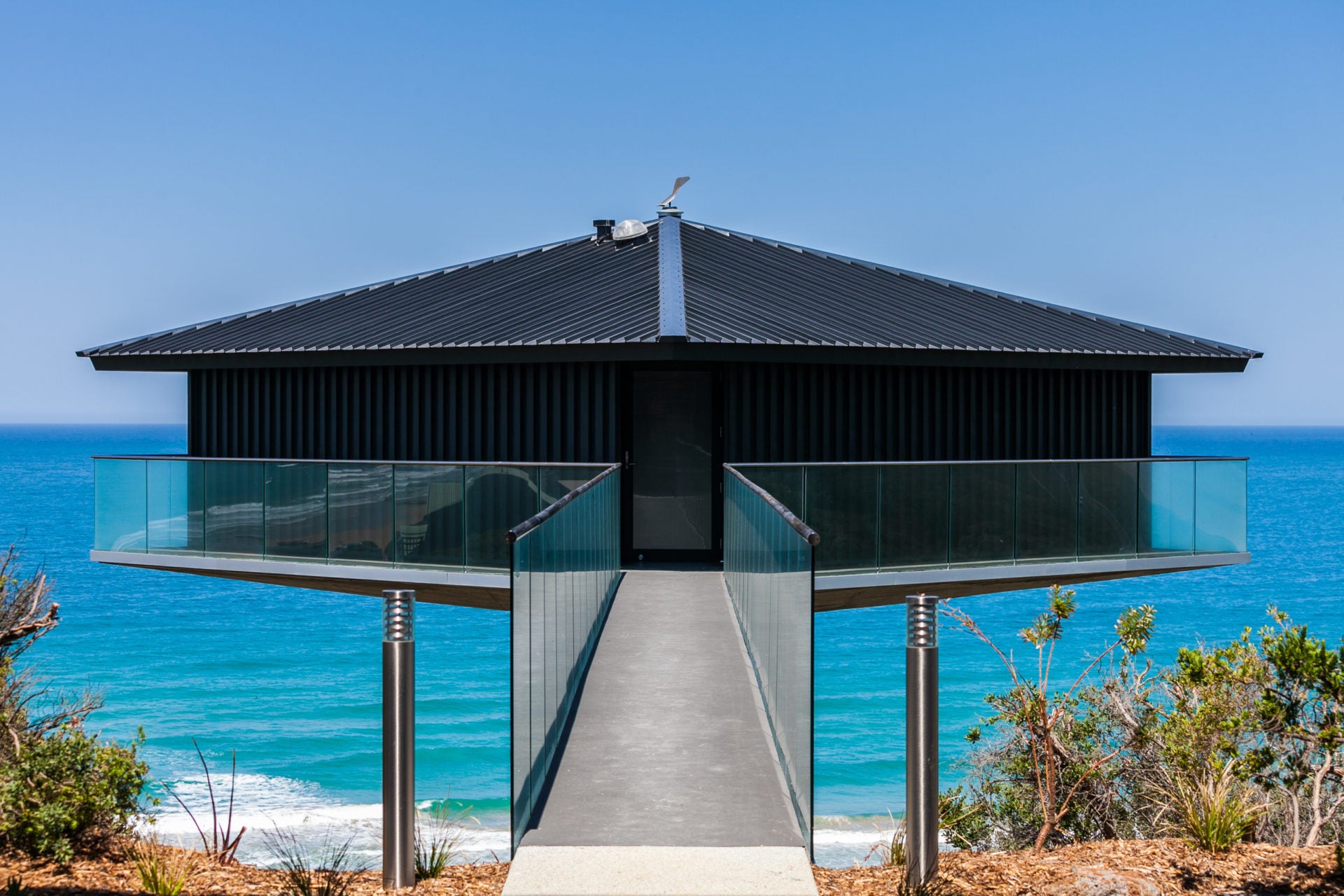 The Pole House is a distinctive part of the landscape on the Great Ocean Road here in Victoria. One of Australia's smartest people bought it when it finally came up for sale by the original pylon engineer who had built it initially in the 1960s. Like many people who actually do something really useful for society this gentleman is incredibly modest and unassuming but has an unbridled love for good music and video.
We were called in at the early stages to conceptualise and iterate the audio visual systems and automation. Peculiar to this residence is the fact that the Pole House itself is available for lease to holidaymakers and needs to be able to operate both independantly and contiguously with the new primary residence that has been constructed on the hillside behind it.
The home systems are operated via Control4, this automation product that Carlton Audio Visual has been purveying and installing since 2004 is now Australia's leading home integration system for combining all of your lighting, AV control, HVAC and other functions with elegance and simple accesability.
Read More
Posted By Rab Turner
Thursday, 26 March 2020 5:58:42 am Australia/Melbourne
There are three shops open in South Carlton ... IGA, the Post Office, and Carlton Audio Visual ... the good thing is that parking has never been better.
We are operating under strict social distance procedures and are equipped with hand sanitiser dispensars and masks and alcohol swabs. We are maintaining our normal hours of operation although we have reduced sales staff presence and have used the rabbit warren of our buildings to disperse our workforce away from the meet and greet area of 164 Lygon St.
Read More
Tuesday, 17 March 2020 8:12:19 pm Australia/Melbourne
We absolutely love playing people music and showing off our stuff at Carlton Audio Visual. Along with other small business in Australia and elsewhere we have instituted procedures to as much as possible protect our clients and colleagues when they visit us. We are following the WHO guidlines instore.There will be hand sanitiser, there will be bleached surfaces, there may be rubber gloves.
Read More
Posted By Rab Turner
Wednesday, 26 February 2020 4:36:00 am Australia/Melbourne
It's a new world with a quarter of the worlds population in lockdown and things will never be the same again. Domestic network infrastructure has gone from being something where the evening Netflix show was the most important thing to now having to be able to support a family being locked down for weeks on end and being able to keep working and studying from home.
As a business Carlton Audio Visual are faced with the fundamental question of how we are going to survive the next few months where the discretionary income flow from our enthusiast Audio Visual clients has gone into Covid19 lockdown.
It is clear that our existing competencies of residential network installation and domestic device integration will be applicable to helping make the integrated home office/school/entertainment environment actually work for people here in the Melbourne area.
We and other organisations with our particular skillsets are the only ones that can help make this work.
We call this our HOPE program ... Home Office Preparation Enabling.
Read More
Posted By Rab Turner
Sunday, 16 February 2020 4:31:53 pm Australia/Melbourne
Generically bookshelf speakers are those medium sized transducers between 20 and 40 cm high that are designed generally to be mounted with their tweeters at ear level. There is an optimum size of loudspeaker where the various parameters of efficiency, frequency response, bass performance, cabinet neutrality, peak sound pressure level meet. I tend to refer to this size as the "fat bookshelf" range, not exactly fashionable but with a wonderful personality ....
Read More